Kelly Petersons Web site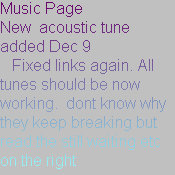 This ain't much but it's Home
He ended up being the kind of guy that you dread he'd come on the phone.
There's nothing as pathetic as an aging hipster
Life coach/sex slave/agent wanted
Still waiting for one of you assholes who tell me how much this web site sucks to do it for me!

Drag your mouse over me. Touch me.
Your mouse. Not your gerbil!